CFHC Receives Accreditation!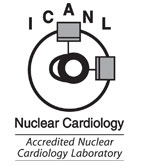 Central Florida Heart Center is pleased to announce that it has achieved accreditation in Nuclear Cardiology (ICANL) and Adult Echocardiography (ICAEL) by the Intersocietal Accreditation Commission.
Accreditation means that CFHC has undergone a thorough review of its operational and technical components by a panel of experts. ICANL and ICAEL grants accreditation only to those facilities that are found to be providing quality patient care, in compliance with national standards through a comprehensive application process including detailed case study review.

Accreditation is a "seal of approval" that patients can rely on as an indication that the facility has been carefully critiqued on all aspects of its operations considered relevant by medical experts in the field of Nuclear Cardiology and Echocardiography.
Patients should remain vigilant in making sure that their Nuclear Cardiology and Echocardiography procedures are performed only by accredited laboratories. CFHC remains committed to providing unsurpassed cardiology care to our patients. Our accreditation in both Nuclear Cardiology and Adult Echocardiography is just one more reason you should trust your healthcare to the physicians of CFHC.